Click on any book to Learn More
Click on any book to Learn More

Operation Leadership: How Training With A Marine Can Help You Dominate The Business Battlefield
I've been an entrepreneur for almost two decades, and in that time, I've learned firsthand what you need to do to be truly successful. Though I've worked primarily in the real estate industry, I've learned tips and habits that have helped people from all industries follow their passions and achieve greater success with their businesses. I want to use my experiences and the things I've learned to help you run a better business so you can enjoy more wealth and greater freedom. If you know you have what it takes to expand your business using principles tested by the most dedicated people on the planet, this is the book for you.
Learn about the key habits and skills practiced by the most successful minds in the business world. Discover how you can improve your networking game while also adding value to your community and industry. Start setting smart goals and following through on them through scheduling and time management. With these strategies, you too can grow your business and experience the kind of success you've always dreamed of. That's how you win.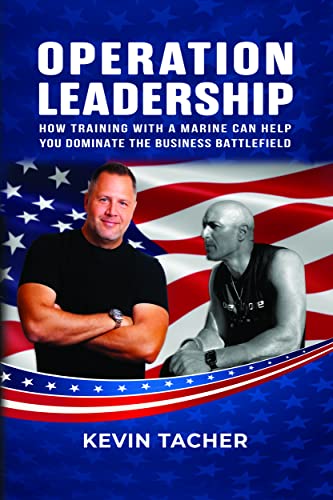 Rescue Your Business was written as the result of over fifteen years of thought, research, and experience in the South Florida Real Estate market. I'll cover my successes along with my failures.
I've been in the real estate industry for many years and have seen a wide array of transactions go smoothly. I've also seen my fair share of transactions that didn't go as well. All in all, I've closed over seven thousand five hundred transactions in my career as a Florida licensed title insurance agent, and I like to think that I've seen just about everything when it comes to buying and selling real estate in South Florida.
What I specialize most in is caring that my clients go in the deal together and leave the deal together making sure everyone gets out unharmed. I want to make sure in each transaction all parties leave the deal better off than when they started.
Amongst the many real estate professionals that are successful, there are even more that are not. In my years of experience, I've seen quite my fair share of these real estate professionals go out of business.
When it comes to buying and selling real estate, people want to know that they are dealing with honest people. My company Independence Title was founded many years ago with a mission to be the most efficient title company in the industry.
It's been my ongoing objective to surpass the standards of service previously offered within the title company industry. We constantly accomplish this by establishing strong relationships with proven strategic alliances, offering competitive pricing, and delivering a satisfying experience, by both anticipating the needs and exceeding the expectations of our clients.
We've also developed the nationally recognized website TitleRate.com to help expand learning opportunities for individuals interested in real estate.
Our principle is clear and simple: Clients interested in real estate should be equipped with all the tools, strategies, and education necessary to help them achieve great success in their careers, while keeping their property title well protected.
I wrote this book with that same mission in mind: to give the readers tips, suggestions, and educational nuggets that will make a difference in the way they either close their next real estate transaction or run their next real estate business.
If you remember one thing from reading Rescue Your Business, you want the kind of person who is trained and willing to run into a blazing, five-alarm fire to rescue you, your family and your business. Wouldn't you want this type of person on your side before your business suffers a financial loss?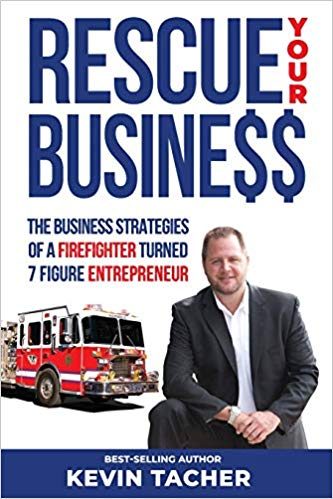 The Title Wave of Real Estate
When you buy a home, you'll face a barrage of terms and procedures that you've probably never heard of – especially if you're a first-time buyer.
One of the most important things you need to know about is title insurance, which is typically handled by a title insurance agent or real estate attorney. In addition to ensuring that title insurance is purchased, title insurance agents and attorneys facilitate the closing process. They hold the money, but who are they and what are they supposed to do? And more importantly, how can you save money in this process?Kevin Tacher, the Founder and CEO of Independence Title Inc., walks you through the process and provides the tools you need to:
choose the right title company;
review the title commitment;
ask the right questions throughout the closing process.
You'll also learn why it's important to get title insurance for all transactions – even for simultaneous or double closings.Protect yourself, your lender's financial interest, and your loved ones against loss due to title defects, liens, judgments, code enforcement violations, unpaid water bills, and other problems by navigating The Title Wave of Real Estate.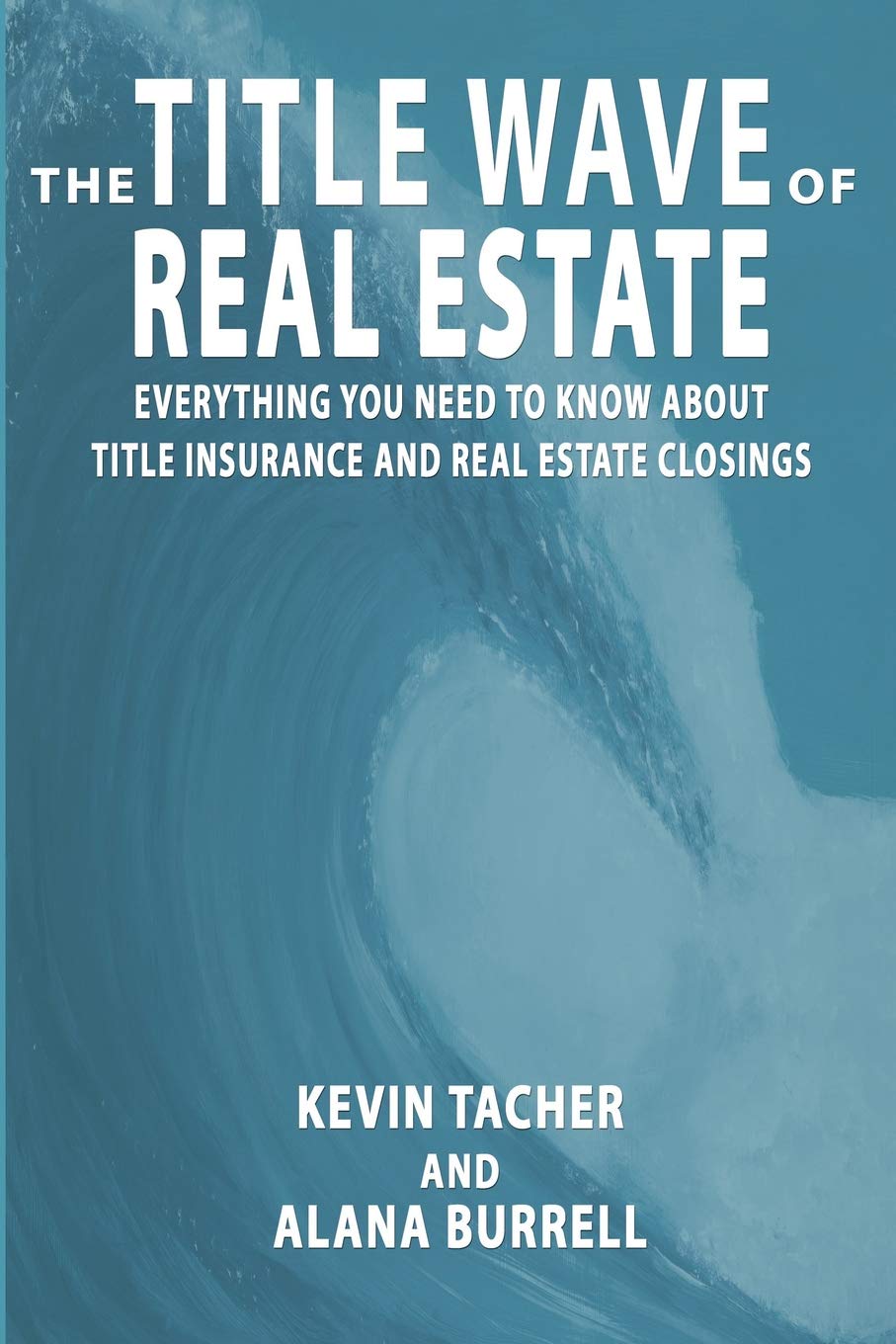 Title Insurance Tips and Secrets
Title Insurance Tips and Secrets, 1st Edition, is completely revised and updated to help you understand the key concepts of title insurance and how your title policy protects you.
The information in this book will help you to overcome the challenges of a successful real estate closing and will allow you to take control of the real estate settlement process by fully understanding it.
This book is written for anyone that wants to finally understand all of the components and costs associated with a real estate closing statement.
Kevin Tacher and Lex Levinrad offer proven, practical advice based on a combined experience of over fourteen years handling over one thousand real estate transactions in South Florida.
Their wealth of knowledge and experience will help you save money and understand what you need to know about title insurance, title commitments, title policies and closing costs.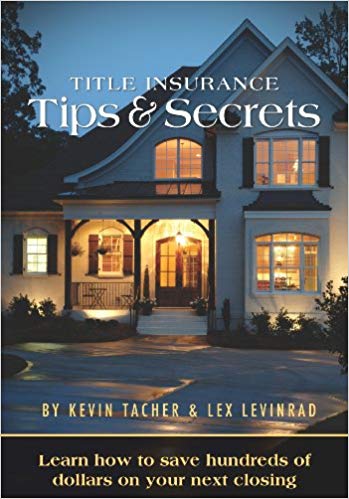 Secrets from the Real Estate Masters
Secrets from the Real Estate Masters was written with over 30 combined years of real estate experience both locally and abroad.
Together Kevin and Sylvain have closed thousands of real estate transactions here in Florida. Sylvain as a Licensed Real Estate Broker and Kevin as a Licensed Title Agent.
In this book we've decided to share our knowledge and experience to help make any real estate professional more successful than before they read this book. We've covered everything from getting your initial license, to selecting the right broker to marketing your real estate business.
If you are thinking about buying a home or maybe selling your home in Florida, we hope this book will show you why selecting the right real estate professional is key to a successful home buying experience. If your agent is not doing even half of the things we talk about in this book, you've hired the wrong agent.
So, if you're currently in real estate, thinking about getting into real estate or you're a buyer or seller of real estate we hope you find this book an added value.
We encourage you to visit our websites and ask us any questions you may have. If you're looking for a great real estate brokerage in Florida, we offer competitive commission splits and work with some of the top affiliates in Florida.
As a Licensed Real Estate Broker in Florida, I've found that working with the best title company like Independence Title and other real estate professionals will help you to close more deals on time every time.
Best of luck in your home buying, selling or real estate business and we look forward to working with you soon!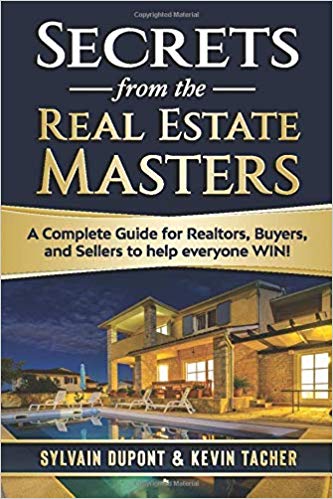 Robert Louis Stevenson once said that everyone lives by selling something. This was a sage statement from a productive mind.
The word SOLD has a vibrant ring for most of us. It is a pivotal word in the world of Real Estate, and one that generally pervades our entire economic existence. There are several meanings attached to the word SOLD – including, for example: a completed transaction, an idea that has been accepted, or acceptance of a final bid at an auction; it is, however, used primarily in an economic context.
Selling grew out of bartering or exchanging when one party had more bargaining power than the other. Bartering or exchanging grew out of the specialization of duties or chores that allowed us to enjoy equitable fruits of each other's labor. 
This system of specialization of tasks enabled us to survive and thrive, and we have never lost our desire to barter, buy or sell 'anything under the sun' – especially property. In this vein, our Celebrity Experts in Real Estate have honed this skill into a fine art with their acquired expertise.
These men and women bring their experiences to share with you their proven methods and secrets that have made them successes in their fields.
Their topics include analysis of sales, sales mindset, sales lead generation, legal concerns with investment property, and customer satisfaction for buyers and sellers among others. So what are you selling? …Houses? …Commercial property? …Investments?
Regardless of whether you are an experienced salesperson, new to sales, or you wish to review the most contemporary concepts in today's real estate market, the ideas that these Celebrity Experts® bring to the table will be worth their weight in gold when you read and incorporate them into your daily work-schedule. In a manner of speaking, …you will be SOLD! on them.